Day ticket Swimming & Playground (valid for 1 day in the period from 1/09 - 30/09)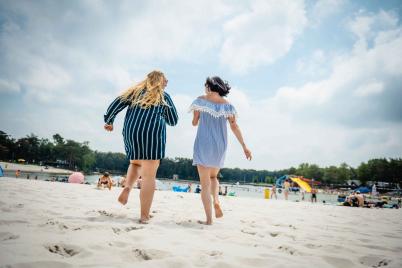 With a day ticket you have access to the recreation area.
Ticket adult mid-season*
valid from 01/04 to 30/06
valid from 01/09 to 30/09
€ 4 per person
Children up to 5 years old: free access with ticket
(Groups of more than 10 people: €3 p.p.)
*Not valid for events
Extra information:
Please note: this ticket is only valid on the day you selected. 
Tickets cannot be exchanged for another day - tickets are not refundable.
Please note: You can also reserve a free ticket for children up to 5 years old. This allows us to maintain control of the number of visitors per day.
How does access to the daytime recreation entrance work? 
You can gain access via Zilvermeerlaan 2 after scanning your pre-purchased ticket.
Download your ticket and scan the QR code at the entrance gates.
The free children's tickets cannot be scanned, but are valid as admission tickets.
You can only scan your ticket at the new entrance gates. Children then walk with the adult through the turning gate.
The info point is closed on weekdays after 5 pm. In case of problems at the gates, you can call the guard.
Follow the measures indicated on the domain in order to guarantee a safe visit. Take care of yourself and each other and respect our staff. 
---